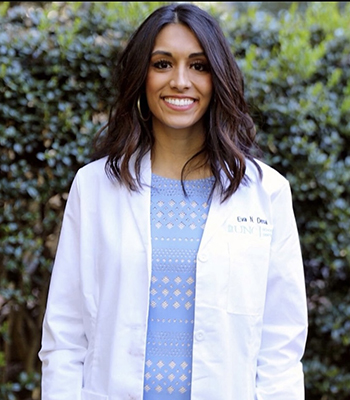 Dr. Eva Desai was born in Brooklyn, NY and raised in Fayetteville, NC. Dr. Desai attended North Carolina State University where she earned her Bachelors in Human Biology with a Nutrition Minor. She continued her studies at NC State and earned her Masters in Physiology. Dr. Desai was involved in clinical research, then attended UNC Adams School of Dentistry in Chapel Hill where she earned her degree in Doctor of Dental Surgery (D.D.S.).
Dr. Desai stays updated on the latest treatments in dentistry by dedicating her time to continuing education. She has completed programs in dental implant placement and advanced bone grafting techniques. Dr. Desai continues to seek out new methods and technology to ensure her patients have access to the highest quality dental care.
During her free time, Dr. Desai enjoys fitness, traveling, live music, food and wine, and spending time with her fiancé and their dog, Millie.